The North San­ti­am, South San­ti­am and Calapooia Water­shed Coun­cils' mis­sion is "Think­ing and col­lab­o­rat­ing region­al­ly to build capac­i­ty to work local­ly. Our Vision: Clean healthy waters with eco­log­i­cal flows, native species recov­ered and diverse, flood­plain con­nec­tiv­i­ty and healthy ripar­i­an forests, as well as sta­ble economies with work­ing land­scapes that sup­port local pop­u­la­tions, and com­mu­ni­ties that sus­tain those nat­ur­al resources. The vision's foun­da­tion is sus­tained by edu­cat­ed youth and adults who behave as stew­ards of their water­shed resources and pri­or­i­tize invest­ment into their local economies."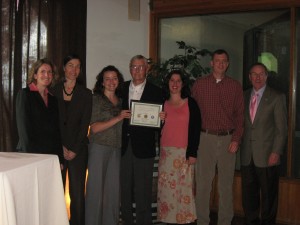 Ore­gon Governor's Fund Recip­i­ents, Calapooia-San­ti­am Part­ner­ship
The North San­ti­am, South San­ti­am and Calapooia Water­sheds have sim­i­lar land­scapes, start­ing in steep forest­ed uplands and mov­ing down to the Willamette Val­ley floor. Each has a mix­ture of land uses includ­ing forestry in the upper water­sheds, which tran­si­tions to more agri­cul­tur­al type uses in the low­er water­sheds. Com­mu­ni­ties in each water­shed are small to mod­er­ate in size and there are a grow­ing num­ber of small acreage landown­ers. The San­ti­am and Calapooia Water­sheds his­tor­i­cal­ly sup­port­ed Upper Willamette Chi­nook Salmon Evo­lu­tion­ary Sig­nif­i­cant Unit (ESU) and Steel­head Dis­tinct Pop­u­la­tion Seg­ment (DPS). The North and South San­ti­am rep­re­sent two of the four core spring Chi­nook pop­u­la­tions and all three water­sheds rep­re­sent three of the four his­toric win­ter Steel­head pop­u­la­tions. All three water­sheds are list­ed on the 303(d) list of water qual­i­ty impaired water bod­ies pri­mar­i­ly for exceed­ing sum­mer water tem­per­a­ture stan­dards. The Calapooia also has por­tions list­ed for E. Coli and the San­ti­am is list­ed for dis­solved oxy­gen.
The three water­sheds have sim­i­lar restora­tion pri­or­i­ties that were reaf­firmed by an online sur­vey of 34 mul­ti-dis­ci­pli­nary par­tic­i­pants. Pri­ma­ry restora­tion pri­or­i­ties include aquat­ic/in-chan­nel habi­tat, floodplain/riparian habi­tat and fish species recov­ery. Sec­ondary restora­tion pri­or­i­ties include water qual­i­ty and quan­ti­ty, wet­lands and upland habi­tat.
The fol­low­ing sub-basins or reach­es were select­ed to plan, imple­ment and mon­i­tor long-term restora­tion strate­gies to address the above pri­or­i­ties.
| | | |
| --- | --- | --- |
| North San­ti­am | South San­ti­am | Calapooia |
| Stout/Valentine Creek | McDow­ell Creek | Court­ney Creek |
| Bear Branch | Hamil­ton Creek | Mid­dle Reach |
Click Image for Larg­er View
The North San­ti­am, South San­ti­am and Calapooia water­shed Coun­cils have part­nered with Mey­er Memo­r­i­al Trust and Bon­neville Envi­ron­men­tal Foun­da­tion to mod­el a col­lab­o­ra­tive approach between region­al water­shed coun­cils in devel­op­ing and imple­ment­ing an adap­tive 10-year restora­tion and mon­i­tor­ing strat­e­gy. Please vis­it BEF's Willamette Mod­el Water­shed Pro­gram web­site for more infor­ma­tion. This col­lab­o­ra­tion shows eco­log­i­cal and eco­nom­ic effi­cien­cies in work­ing across tra­di­tion­al water­shed bound­aries and will be trans­fer­able to oth­er Willamette Basin water­shed groups inter­est­ed in estab­lish­ing sim­i­lar effi­cien­cies through col­lab­o­ra­tion. The Calapooia-San­ti­am Col­lab­o­ra­tion will focus on six sub-water­sheds, each with a unique set of eco­log­i­cal, social and eco­nom­ic val­ues, yet offer­ing good points of com­par­i­son for study of water­shed response to spe­cif­ic treat­ments. Restora­tion strate­gies will be devel­oped for Court­ney Creek and the mid­dle reach in the Calapooia Water­shed, McDow­ell and Hamil­ton Creeks in the South San­ti­am Water­shed and Stout/Valentine Creeks and Bear Branch in the North San­ti­am Water­shed. The lessons learned and tools devel­oped in these sub-water­sheds will be uti­lized in oth­er sub-water­sheds in the region as these groups lever­age the Willamette Mod­el Water­shed Pro­gram fund­ing out­ward to meet a broad­er restora­tion vision across the region.
Click to View Strate­gic Plan Sum­ma­ry: Sum­ma­ry-Calapooia-San­ti­am-Col­lab­o­ra­tion-for-Strate­gic-Water­shed-Restora­tion